Do you like to keep your home and interior decor on-trend? Then you need to know the interior colour trend of the year for 2022!
Do you like the colour purple?
Or should we say… "A dynamic periwinkle blue with a vivifying violet red undertone" The Pantone Institute.
Introducing you to 'Very Peri' Pantone colour of the year 2022!
We like it!
The Colour Purple
The colour purple is often associated with royalty, nobility, luxury, power, and ambition. Purple also represents meanings of wealth, extravagance, creativity, wisdom, peace, pride, mystery and magic. And we could all do with a bit of all of these right now!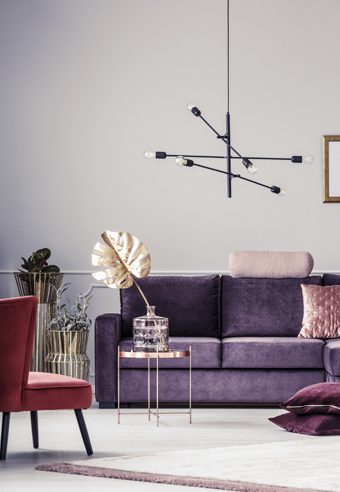 How can I use this colour in my home?
We can already see this colour working its way into high street fashion, but how can you make it work in your home?
When using any strong interior colours, we suggest a neutral palette for flooring.
We have a huge selection of neutral-toned carpets, vinyl and laminate flooring in stock and will be able to help you colour match your statement piece of furniture.
For larger items of furniture, we would also recommend opting for a more neutral palette.
You can introduce your bolder colour choices on feature walls and accents like cushions and throws.
Maybe you could opt for a single armchair upholstered in plush velvet or choose artwork for the walls that uses hints of the same colour. This allows for different textures and materials to your finished look, making it appear much more polished and considered.
If Very Peri isn't the colour for you then you could try out an alternative colour trend - www.countryliving.com/uk/homes-interiors/interiors/a38373378/colour-trends-2022/ for your interior instead!
What is Pantone?
The Pantone Institute is a company that influences and predicts colours that will be used in fashion and interiors making 'trends' for brands and manufacturers across the world and each year it picks its 'Colour of the Year' www.pantone.com/uk/en/color-of-the-year-2022
How can Poplar help?
For more help and advice on choosing your carpet (link this to blog 1) visit us in store today or click on the Visit Us (link to page) page to find a store near you. Come and have a chat with one of our friendly and experienced team, we look forward to seeing you.
We are a family-run business with over 50 years of experience and we love what we do. Our team of over 250 staff throughout the Midlands offer excellent service and support making the whole experience a positive one. We are here to help.